Businesses are increasingly challenged by changing buying behavior. Nowadays, shoppers expect amazing customer experiences across multiple sales channels. This evolving need is driving businesses to innovate and thus use solutions that offer their customers an ultimate omnichannel customer experience. This is where Unified Commerce Management (UCM) helps out.
Unified Commerce Explained
There are many conceptions about what Unified Commerce is.
This quote by research firm Gartner gives a good first look at the core meaning of Unified Commerce:
"Unified Commerce is the practice of providing flexibility, continuity, and consistency across digital and physical channels to deliver a superior customer experience. This consistency includes multiple phases of the customer's buying journey, including when a customer is searching, browsing for, transacting, acquiring and consuming a product or service."
To put it simply, it means that regardless of the journey the customer has taken, or what touchpoints they've used to make a purchase, their customer experience should remain the same: frictionless.
A Great Customer Experience
By answering the question: 'What is Unified Commerce', we can conclude that Unified commerce is essential to meeting customer expectations. But why is this so important?
To understand the need for Unified Commerce, one must understand the contemporary buying-and-selling landscape. Nowadays, the way products are sold are dictated by customers who use multiple channels to engage with a brand before making a purchase. Research suggests that more than 73% shop across channels! Therefore, retailers are keen to start with omnichannel selling. However, this also means maintaining a great customer experience across channels.
Research by Adyen concludes that 84% of retailers have seen customer expectations rise in recent years. Current consumers expect a seamless customer experience with a high level of service, logistics, and personalization, in all channels they shop in. To be able to meet these expectations as a retailer, a unified strategy is essential.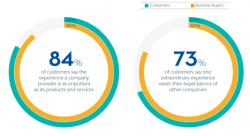 No Longer use a Patchwork of Solutions
To sell in multiple channels many retailers use a patchwork of business applications. Point-of-sale (POS), marketplace software, e-commerce platforms, Customer Relationship Management (CRM), Enterprise Resource Planning (ERP), and Order Management software are just a few examples. In practice, it means that businesses are using a maze of integrations that cannot truly communicate. Consequently, the systems are unable to deliver the experience that customers are looking for.
A Unified Experience
The key to providing a great customer experience lies in consolidating sales channels and back-office processes. Unified Commerce systems integrate any sales channel, such as e-commerce, brick-and-mortar stores, and marketplaces, into one platform. Within this platform, merchants manage inventory, order fulfillment and product information throughout the different sales channels.
In turn, it allows customers to shop whenever, wherever and with however they want. As all processes are managed within one platform, true omnichannel experiences can be offered. This includes services such as buy online, pick up in-store, return in-store, one-day delivery, order splitting, omnichannel customer service and much more.
"Unified Commerce results in the ability to drive a top-notch, frictionless, non-frustrating and valuable customer experience." Source: Chain Store Age
A quick sidenote
When speaking about Unified Commerce, we think of an ideal scenario in which businesses can use just one piece of software for all their back-office operations. However, there may never be a truly singular solution that can do so. Therefore, in practice, it often means that Unified Commerce refers to a tight-knit stack of technology. It provides merchants fewer pieces of software, that are better integrated and that can communicate.
Benefits of Unified Commerce
Customer Experience
This is what Unified Commerce is all about. Customers don't care about channels. What they want is a seamless shopping experience and accurate, consistent information and services, no matter whether they buy online or in your physical stores. Some examples:
Check inventory availability across stores
Click & collect
Order an out-of-stock item in your stores, and have it delivered at home
Buy online, pick up in-store
Return an online purchased item in-store
Cross channel loyalty programs
Smart Data-Driven Decisions
When every part of your business – including distribution centers, eCommerce sites, brick-and-mortar stores, and HQ – runs on a unified platform, every department can access, and manage, the same set of data.
Using these unified data allows businesses to better track their KPIs, analyze their performance and thus make decisions that benefit the business. Eliminate guesswork and make decisions that are data and insight-driven. Identify new revenue opportunities, obtain insights about potential opportunities, create new offers to adjust to the current market situation and improve customer satisfaction.
An important benefit of Unified Commerce is that it provides businesses of a clear, unified overview of all sales through all channels. This unified data empower businesses to make smart, data and insight-driven decisions that benefit their business.null
Optimize Efficiency
It is important that all of the systems within a business work seamlessly with one another. When you use separate systems to manage sales, inventory, purchase orders, customer management, and so on, setting up seamless integrations will become a problem. Integrating separate systems requires finding multiple vendors, each specialized in one of the systems. They need to find time to work on a mutual project, take time to understand each other's systems and work together to make working integrations. Every time an upgrade needs to be performed, this process restarts and repeats.
Needless to say, this can be a lengthy and costly project for each integration. When a unified system is in place, implementation and maintenance time and costs can be reduced. This benefit of Unified Commerce means dealing with one vendor who takes care of the whole process.
In Short
So in short, what is Unified Commerce and why is it so important?
Doing business is all about meeting customer expectations. It is important to be present in different sales channels and offer seamless customer experiences. For most businesses, back-office processes that come along with these different sales channels, are a true challenge. Unified Commerce gives merchants full visibility into all processes through all channels and it ensures a high level of consistency and continuity which seamlessly guides customers through their purchase journey.